Kanjirappally Traditional Families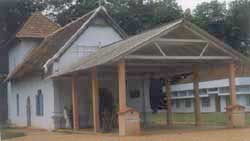 The Family is a group of people living together, bonded by the strong blood relationship.The definition of family is security and nurturing. If it doesn't have those things in it then it won't work. The family is the basic unit of society and it will remain the basic unit. Without a decent family structure, we will end up with a world full of psychopaths.

Family life may have changed but family values remain as strong today as they ever were. If you want evidence go to prison, and see the number of lives ruined because of broken families. We all need the loving support of both our immediate and extended families. "Home is where, when you go there, they have to take you in."

Listed below are the families in Kanjirappally we are researching. Each family was in Kanjirappally during the early 1400's and we are hoping to find a connection to our great, great, great grandfather, Thommi Periyaveettil.If your family has Kanjirappally roots and is not listed below, please contact us and we can investigate together!



1. Pallivathukkal family

a.Veravannal family
b.Kalloor family
c. Kanathiparampu family

2. Kurisumoottil family


a. Theempally Family

b.Pulimakkel Family
c.Mannuparampil Family
d. Ayalloopparampil

3.Pazhayaveedu Family

a.Kizhakkethalakkal Family
b.Sanjayam Family.
c.Thundiyil Family.
d.Karukappally Family.
e.Karippaparampil Family.(Eapen)
f. Padannamakkel family(Chandapilla)
g.Puthenpura families,Kadamapuzha, Azhakathadiyil etc (Kunjakko)

4. Karippaparampil family

a. Chempakathinkal.
b.Peedikayil.
c.Kaaranthanam.
d. Vaattukattil.
e.Kochukarippaparampil

5.Puthanpura family

a.Kadamapuzha Family.
b.Azhakathadiyil.
c.Kariyanampoykayil.

6.Padannamakkel Family

a.Panackel Family.
b.Puthuparampil Family.
c.Edayadiyil Family.
d.Vazhavely Family

7.Other early Christian settlers of Kanjirappally

1.Panthiruveli Family
2.Madukkakuzhi Family.
3.Mangalathukarottu Family.
4.Elavunkal Family.
5.Aerthayil Family
6.Kochuparampil Family
7.Kodimarathinmoottil Family
8.Thekkemuriyil Family
9. Anchanattu Family
10. Kunnathu Family
11.Kallarackal Families- (Vadakkeparampil,Parampil, Kollamkulam,Anathanam,Karimpanal,Pottamkulam,Kizhakkemuriyil, Puthankaduppil etc)

8. Pazhayapally Housing Complex, 14th cent.


1.Pallivatukkal House.
2.Kinattungal House.
3.Pazhayaveedu House.
4. Kurisummoottil Kunjakko.
5.Valiyaveettil Thommi, Founder of Akkarappally (Padannamakkel, Kadamapuzha, Karippaparampil and Kunjakko -'Thalavadi'Kanjirappally Roots)
6.Angadiyil Thazhathe Veedu.
7.Angadiyil Puthenpurayil Eapen.
8.Thazhathe Puthenpurakkel, Sanjayam.
9.Madhavachery.
10.Munjanadu.
11.Kizhakkethalakkel.
12.Kodimarathinmoottil (Two houses)

I am hereby dedicating this page to all those who escaped terror from Nilackal from an unknown disaster at the brink of 14th century. These people, practicing Christians, brought the statues of Umma and Mahesa, also known to Westerners as Our Sacred Mary and Jesus Christ from Nilackal with the hope of preserving their religion. These people emigrated from Nilackal to Pazhoorthodam contained in the boundaries of Kanjirapally. These people are known to have descended from Thommi, Periyaveettil- Nilackal, the very man, our Greatest Grandfather who preserved this great culture for us and gave us a reason to further develop this great culture and ethical standard. These people, those who emigrated Nilickal after this great disaster and preserved the roots of our great culture have disappeared to eternal heaven where they may live an eternal life of peace and harmony. May God enlighten us to follow their footsteps, to preserve out great culture and religion, to stay true to our roots for our generation and generations to come.

View My Guestbook
Sign My Guestbook

jmathew@msn.com